Our tartes flambées
Tartes flambées Eguisheim: authenticity and tradition at the auberge du Rempart
During your stay in Alsace don't forget to taste some delicious tartes flambées in Eguisheim by sitting down at one of our tables. Prepared the traditional way with a home made dough, both our sweet and savoury tartes flambées are cooked in our wood burning oven. Each bite is an authentic taste of Alsace !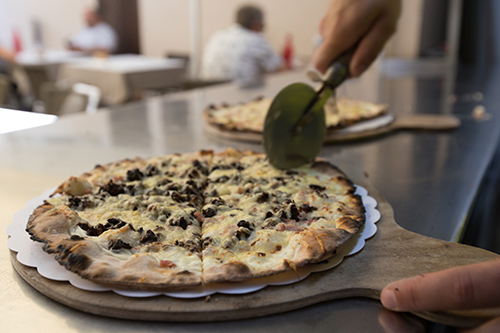 Our savoury tartes flambées :
Original tarte flambée
tarte flambée with cheese
tarte flambée with mushrooms
tarte flambée with Munster cheese
vegetarian tarte flambée
The tarte flambée can be shared easily, making for a very convivial moment.
Our sweet tartes flambées :
For desert, the sweet tarte flambée is an original way to finish a meal. Don't miss our apple and cinnamon tarte with Calvados, a surprising take of the traditional dish.